Flexible Led Floor Light White
Stock Code : AN1130
Perfect for reading and working
Non-obtrusive yet stylish, modern design
27 high performance, energy efficient Naturalight™ LEDs
Flexible arm lets you aim the light exactly where it's needed
Convenient height: 90cm / 36"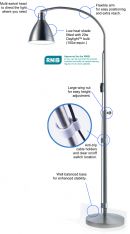 Daylight Flexi-vision Floor Lamp
Stock Code : A31067
Daylight Flexi-Vision Floor Lamp

Unique floor lamp, designed in cooperation with the RNIB.
One of the safest lamps on the market with clear on/off switch location, anti-trip cable holders and low heat shade. The Flexi-vision™ Floor lamp regroups all the best features to make it the ultimate reading lamp. The 20w Daylight™ energy saving bulb reduces glare and improves contrast allowing you to read and write for longer in optimal comfort.
Experience the Flicker-Free light revolution with Daylight. No stroboscope effect, no headaches, just a pure soothing light to relax your eyes!
Daylight™ colours. Love the colours just the way they are!
The Daylight™ technology not only reduces eye-strain; it gives you the best colour matching ever.
Energy saving. All Daylight™ bulbs and tubes use 80% less energy. When you work with your lamp, you reduce your electricity bill and do your bit for the planet.
Low heat. Even if you touch the shade or tube of this lamp by accident, you will be safe. All our bulbs and tubes use the Daylight™ low heat technology for ultimate comfort and safety.

Height: 140cm
Weight 5.9 kg
Light: 20W
REPLACEMENT GLOBE FOR THIS PRODUCT IS:
073010 / A15200
Daylight 20 W Bulb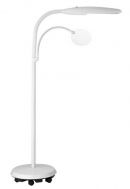 Daylight Floor Standing Lamp
Stock Code : A23030-01
This new floorstanding lamp has been designed with you in mind.
Unique Easy-Twist movement. Effortlessly, you can twist the head and direct the light exactly where you are, not the other way around.
Large rimless lens gives a comfortable view
Floor standing model can be used while in armchair or at a table.
Flicker free 18w Daylight energy saving tube (equiv. 100w).
High quality, large diameter (13cm) magnifying lens, 1.75X magnification and removable.
Globe:A13621